Monday General Session
Christopher Tarbell & Hector Monsegur +
NECA Project Excellence Awards
Monday, October 1 • 10:15–11:30 am
---
Christopher Tarbell & Hector Monsegur
Cybersecurity Experts
Two of the country's leading voices on global cybersecurity issues—men who, for years, were adversaries—will come together to discuss their unique perspectives during the Monday General Session at NECA 2018 Philadelphia.
Ex-FBI special agent Christopher Tarbell is one of the most successful law enforcement officials of all time. Dubbed "the Eliot Ness of online crime" by Newsweek, Tarbell is the man responsible for infiltrating the hacker group Anonymous and defeating the notorious dark web drug trafficking site Silk Road, called "the most sophisticated and extensive criminal marketplace on the Internet." He led the tracking and arrests of two of the most infamous figures in cyberspace: Sabu, who was at one point the most influential hacker in the world, and Dread Pirate Roberts, who was later convicted for his involvement with Silk Road. Tarbell now works as a director for the strategic advisory and consulting firm Berkeley Research Group, LLP.
Tarbell will be joined by one of the men he ultimately tracked down: Sabu. Also known as Hector Monsegur, the black hat highlighted critical vulnerabilities in numerous organizations. Monsegur later began working with the U.S. and commercial security executives around the world, helping them prevent hundreds of cyberattacks. In securing clients in wide-ranging arenas such as technology, healthcare, finance, government, and other industries, his unmatched technical experience educates operators and guides research. Monsegur now works as Director of Assessment Services with Rhino Security Labs, making regular media appearances.
NECA Project Excellence Awards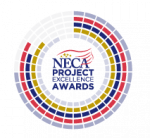 Last year, seventeen companies were recognized by a panel of their peers as winners of the first-ever NECA Project Excellence Awards. These awards are a recognition of the extraordinary work performed throughout the year by NECA contractors in eleven different project categories. Come be part of this year's excitement as NECA recognizes the 2018 winners.
Visit the Project Excellence Awards website (NECAPEA.com) to view all of the winners.
---
image credit: World Trade Center – Gilston 2017 PEA Submission