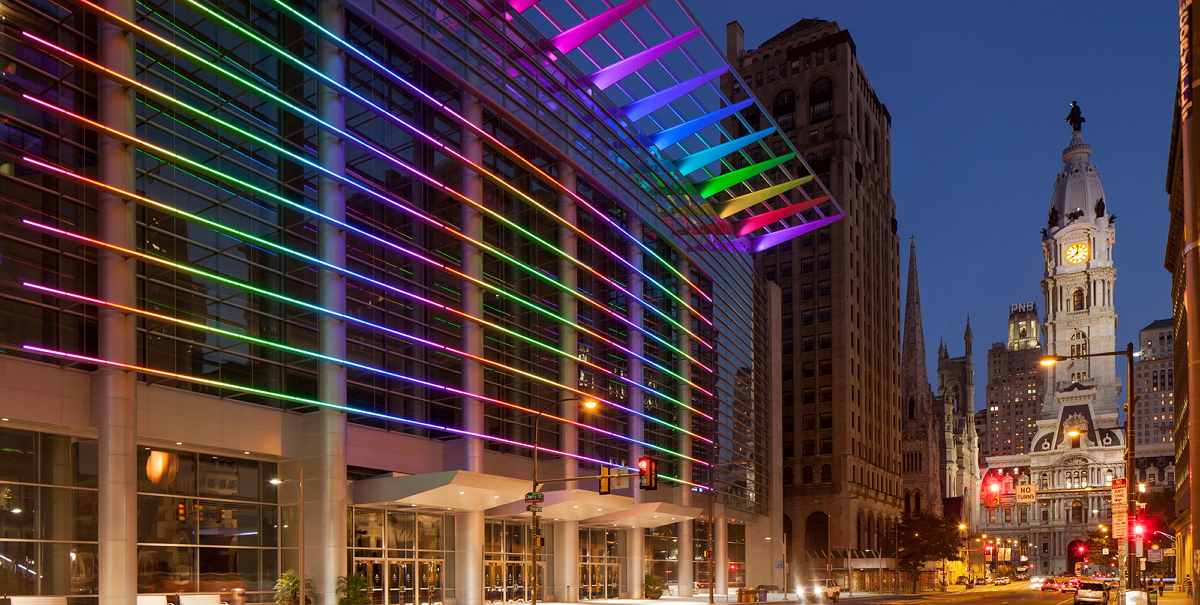 Getting There
---
Pennsylvania Convention Center
Address: 1101 Arch St, Philadelphia, PA 19107
The Pennsylvania Convention Center is a multi-use public facility in the Market East section of Philadelphia, Pennsylvania, designed to accommodate conventions, exhibitions, conferences and other events.Wikipedia
The City of Philadelphia has put together a website full of resources for NECA 2018 attendees.
Click here to view »
---
Travel:
BOOK YOUR TRIP
World-Wide Travel Associates is NECA's preferred Travel Agent. If you would like to make your an Airline reservation.
Reach WWT at 1.855-WWTA-INC or visit the website here.
---
GETTING HERE BY CAR
Information on getting to and around Philadelphia by car can be found on the VisitPhilly website, here.
---
GETTING HERE BY BUS
Greyhound Lines, Inc. is the largest provider of intercity bus transportation, serving more than 3,800 destinations with 13,000 daily departures across North America.
Megabus.com is the first, low-cost, express bus service to offer city-to-city travel for as low as $1 via the Internet. Since launching in April 2006, megabus.com has served more than 22 million customers throughout more than 120 cities across North America.
---
GETTING HERE BY TRAIN
Amtrak serves Philadelphia. Take Amtrak and arrive fresh and relaxed, view station details »
With 21,000 route miles in 46 states, the District of Columbia and three Canadian provinces, the national rail operator Amtrak offers more than 300 trains each day—at high speeds up to 150 mph—to more than 500 destinations.
---
GETTING AROUND: Downtown Philadelphia
Year after year, Philadelphia is rated as one of the best walking cities in the country. And it's no wonder why – the city layout is simple to master and our neighborhood streets are filled with fun and diverse shops, restaurants, museums, parks and people.
The compact Center City boasts founder William Penn's easy-to-follow grid street design. It spans just 25 blocks between two rivers – the Schuylkill and the Delaware. In between, the north/south streets are numbered and the east/west streets have tree names (e.g., Walnut, Spruce, Pine).
15 minutes:
City Hall to the Liberty Bell
10 minutes:
Independence Hall to the Betsy Ross House
16 minutes:
Philadelphia Museum of Art to the Barnes Foundation
In addition, Center City has five main parks or squares (Franklin, Washington, Rittenhouse, Logan and Center), conveniently spread out so as to serve as perfect rest stops during your day out. Curb cut-outs make the city stroller and wheelchair accessible.
Colorful directional signs called "Walk! Philadelphia" have been added throughout Center City that will help you navigate even better. Center City District, the organization responsible for "Walk! Philadelphia," also populates the streets with uniformed goodwill ambassadors who act as strolling concierges. These ambassadors answer questions, give directions and stay in radio contact with Philadelphia police to promote public safety.
Read more: https://www.visitphilly.com/getting-around/
Rent a Car with Hertz
Visit NECA's member discount page for Hertz for everything you need to begin booking your car at special meeting rates for NECA 2018 Philadelphia attendees.
More about getting around Philly »
---